the official website of
Sandy Brown

The Sandy Brown Museum opens in Appledore in June 2014. Watch this space for more information. If you would like to be on the mailing list please email Sandy.

'Creativity is Play'
Next dates:
The next two courses in Appledore are full, ie 23rd-28th June & 28th July – 2nd August 2014.

To accommodate the waiting list Sandy is doing an extra course in Appledore, a longer course of two weeks which includes firing, from August 18 to 30, 2014. There are still vacancies on this course.
More info about courses

Jump Touch Yellow (opposite) is a continuation of the 'Enter The Dance' project which will be going on tour 2013.
More information about 'Enter The Dance'

... 'Today it is hard to imagine the European ceramics scene without her. She is famous for her spontaneous, passionate use of clay and colours. Her almost provokingly simple use of form and her strong, energetic brush decorations feed from direct emotion, from confidence in her own intuition and from a portion of childlike anarchy she preserved for herself. Sandy Brown's catalytic, liberating influence on European ceramics in the seventies and above all eighties must not be underestimated. At a time when European ceramics threatened to get stuck between Asiatic ideals and local traditions, her impetuous, lustful approach to the material demonstrated exciting new possibilities.'

Gabi Dewald, Editor,
writing in Keramik magazine Germany 2000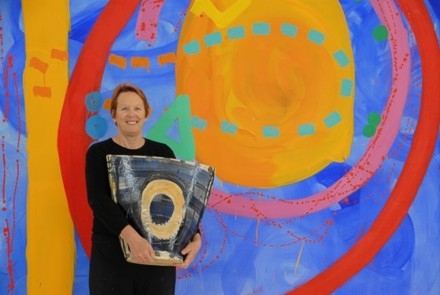 Sandy Brown
Preview of a performance by Sue Way (dancer), Sandy Brown (ceramic artist) and Chris de Graal (musician) using paint, clay, dance and music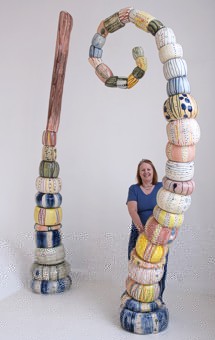 Prelude